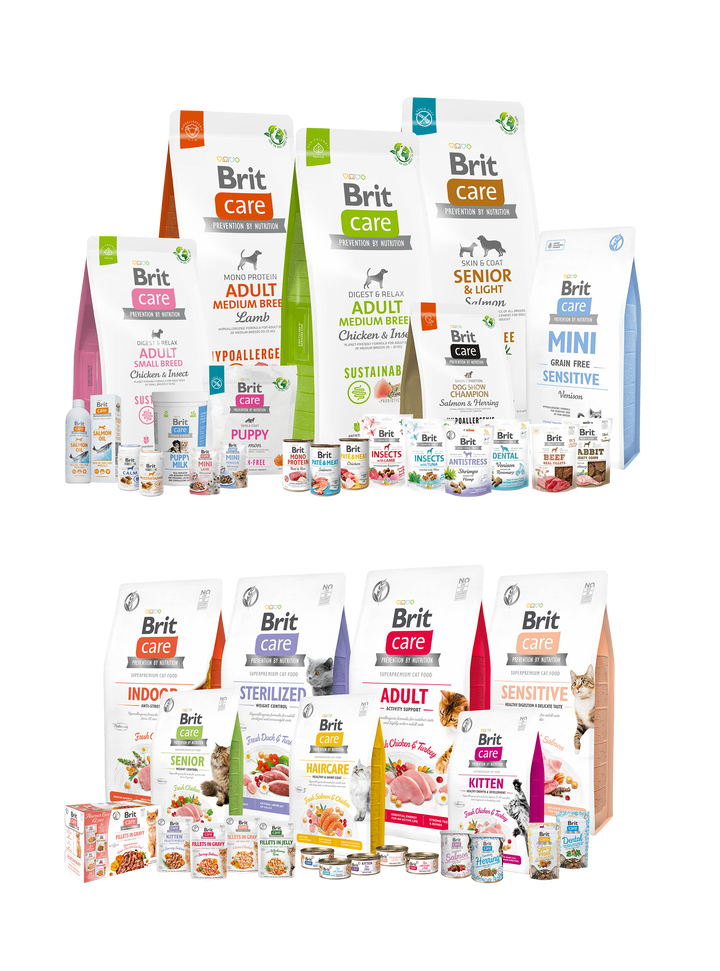 Brit Care
Prevention by Nutrition
Superpremium functional food
Hypoallergenic – Gluten/Grain Free
Prevents food allergies and intolerance
NO soy, NO wheat, NO corn, NO GMO
Brit Care superpremium pet food has been developed to protect the body against negative environmental influences. It starts with carefully selected, high-quality ingredients, such as lamb, salmon, herring, duck, and rabbit to produce balanced, hypoallergenic, and grain-free recipes that prevent food intolerances and are easy to digest. Brit Care also contains functional ingredients that support immunity, improve overall condition, and help eliminate the risk of serious disease.
Dry food Wet food All-Meat Cans, Monoprotein Cans Functional Snacks, Meaty Jerky Nutritional Supplements Puppy Milk, Salmon Oil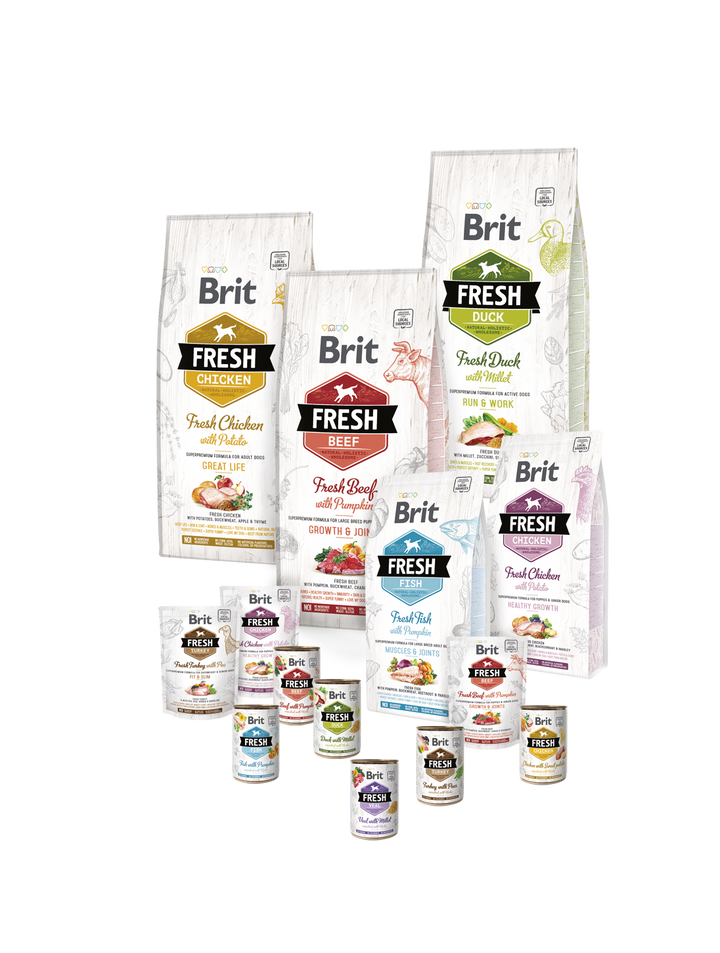 Brit Fresh
A true culinary experience in each bowl
Superpremium holistics formulas
Large amounts of fresh meat, natural, and wholesome plants, veggies, fruits, and herbs from local farms and meadows
Natural * Holistic * Wholesome
NO! nonsense ingredients, corn, soy, gluten, artificial flavors, colours, or preservatives
Brit Fresh is a new line of holistic pet foods made with large amounts of fresh meat and other nutritious ingredients. The formulas are rich in natural sources of amino acids for healthy muscles and tissues, and the freshly prepared meat gives them fantastic flavour, improves long-term food intake, and provides dogs with excellent motivation. They also contain natural vegetables, fruits, and herbs to balance the overall nutrient profile. The selection of daily varieties is sure to please every canine lover of good and wholesome food.
Dry food Wet Food Meaty Cans with herbs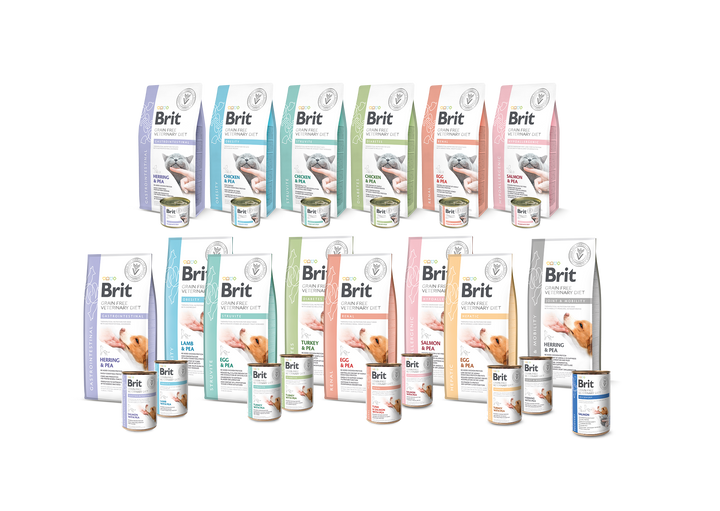 Brit Veterinary Diet
Grain Free
Superpremium veterinary line for dogs and cats
Prevention and health improvement
For pets with common acute and chronic diseases
Lowers risk of adverse food reactions
Tested by veterinary clinics using a standardized method
NO added chicken protein
NO common allergens (wheat, corn, soy, beef, or dairy products)
Brit is introducing a new line of veterinary diets of uncompromising quality. The formulas have been developed to meet special nutritional needs and achieve specific dietetic effects. We focus on prevention and the improvement of the health of pets with the most common acute and chronic diagnoses.
Dry food Wet Food Paté Cans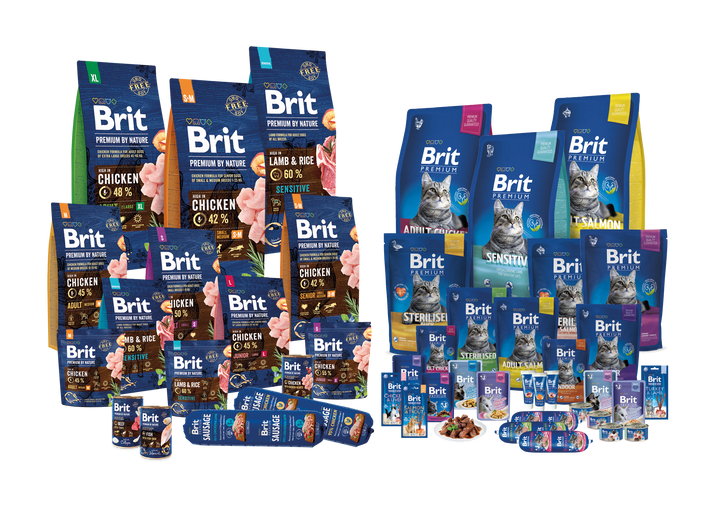 Brit Premium by Nature
Premium formulas for all categories of dogs and cats
High portion of deboned chicken = 50%
Low-gluten kibbles, grain-free cans
NO soy, NO GMO
DOGS - The meat's in the bag
Brit Premium by Nature is a complete and delicious food with a high content of meat. Brit Premium by Nature contains 50% chicken, a natural source of highly digestible protein for healthy muscles and tissues. Oats, an ancient gluten-free cereal grain that doesn't cause food allergies or intolerance, is an excellent source of energy. Collagen obtained from crustacean shells and green-lipped mussels provides natural chondroprotective agents for healthy joints and tendons. Fruits and herbs (chamomile, cloves, citrus, rosemary, curcuma, and dried blueberries) guarantee natural immunity support. Brit Premium by Nature respects the diversity among different breeds and ensures fantastic digestibility and flavour.
Dry Food Wet Food All Meat Cans, Sausages Training Snacks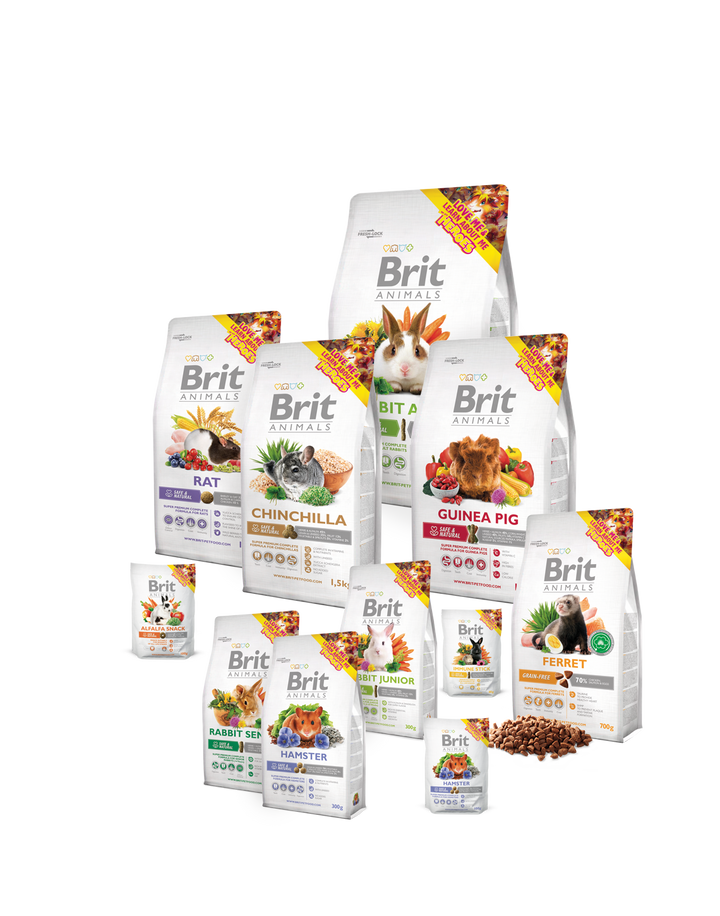 Brit Animals
Safe and natural
Superpremium complete food
For small animals in domestic environments
Regular and balanced nutrition
Guaranteed content of essential vitamins and minerals
We're introducing an innovative approach to rodent and small animal nutrition: The composition of superpremium Brit Animals nutrition respects the natural nutritional profile of small animals. Safe feeding of your pet is essential for lifelong friendship and improves the quality and length of your pet's life while fostering your relationship, love, and mutual understanding. Brit Animals pet foods are made with chemical-free ingredients supplied at a level of quality suitable for human consumption. Modern production processes ensure precise dosage and guarantee the declared content of essential vitamins and minerals.
Dry Food Snacks