VAFO Group is a leading European premium pet food producer, house of brands, and provider of full private label services. We make dry foods, wet foods, snacks, and supplements in a wide variety of formulas, including fresh meat, grain free, natural, bio based, monoprotein, novel and niche ingredients, and low-grain concepts.
Vafo branches
Czech

Factory I - Dry
food, snack

Chrášťany, Prague Czechia

Factory II - dry food, wet food – FRESH MEAT CONTENT

Číčenice, Czechia

Chelčice, Czechia

Chelčice, Czechia

Factory IV - Wet food

Chotoviny, Czechia

Factory VII - Dry food, snack

Velký Ratmírov, Czechia

Rudná, Czechia

Rudná, Czechia

Headquartes

Chrášťany, Czechia

Finland

Factory VI - Barf

Ikaalinen, Finland

Prima Pet Premium OY

Tampere, Finland

Estonia

Factory V - Wet food, snack

Rakvere, Estonia

Poland

Factory VIII - Snack
Carry Pet Food Sp. z o.o.

Trzebielino, Poland

Germany

Allco Heimtierbedarf GmbH & Co KG

Thedinghausen-Wulmstorf, Germany

Sweden

Vafo Sverige AB

Stockholm, Sweden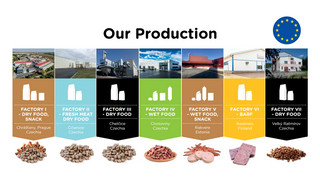 ×
Our brands
Our house of brands comprises leadingtop-quality brands encompassing the premium and high-end segments.