VAFO Group adopts a fundamental decision in its sustainability strategy
Date of publication
28. 1. 2022
At the beginning of 2022, a meeting was held for the management of all our European subsidiaries. The key areas of discussion were planning for 2022 and the adoption of a sustainability strategy with commitments extending to 2025. The strategy was unanimously approved, and from this point forward it forms an integral part of the activities of the entire Group. Some of the measures to achieve our goals have already been implemented, and others will soon follow.
The sustainability strategy is built upon five main pillars:
reduction of CO2 emissions in all of the Group's processes
use of up to 95% recycled packaging materials
50% increase in the use of sustainable ingredients
use of renewable energy sources in production
responsible practices on the part of all employees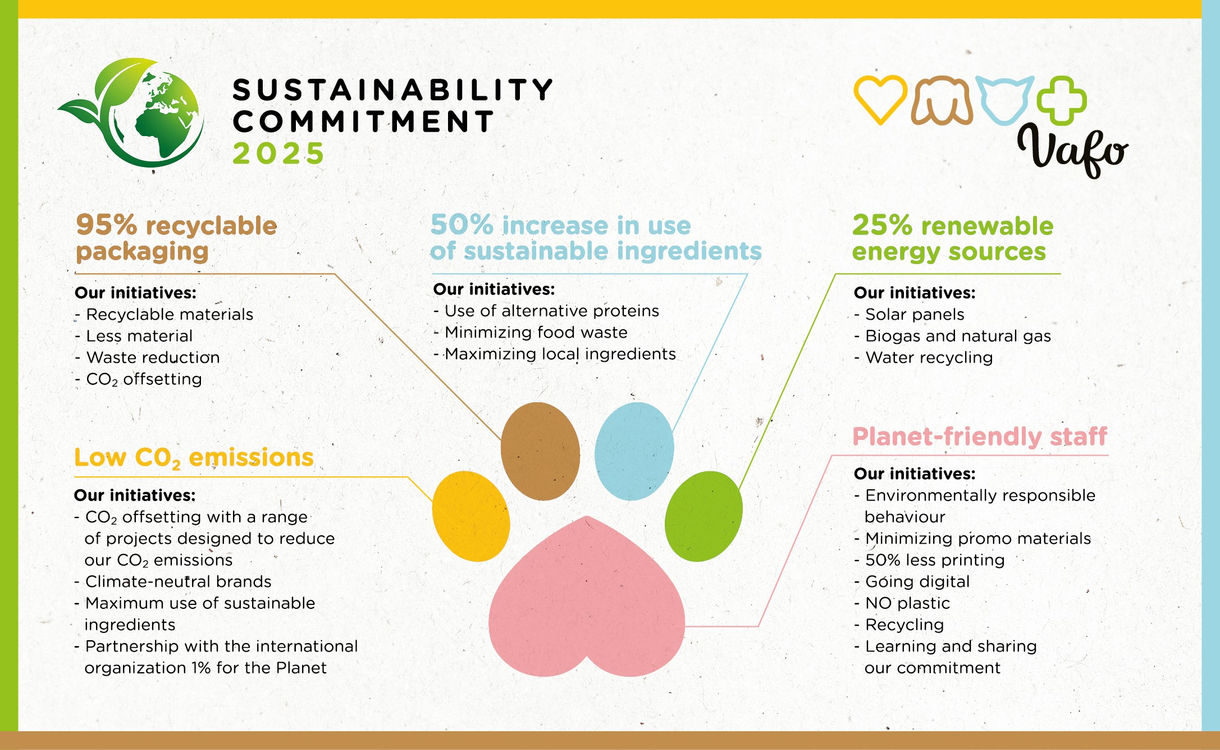 As one of the founding members of the Pet Sustainability Coalition in Europe and a leading producer of snacks for dogs and cats, we are leading the way in sustainability. We work to educate and promote rules for reducing the impact of the pet industry on the planet.
Reducing CO2 emissions
Reducing emissions is the first commitment in VAFO's sustainability strategy. We began reducing our CO2 emissions some time ago, and now additional steps will be systematically implemented to ensure we continue accelerating that reduction all the way to 2025. We also offset our CO2 emissions by supporting various environmental projects, such as those undertaken by the international organization 1% For The Planet.
In order to maintain control over all ingredients and guarantee their sustainable processing, we have decided to discontinue imports of ingredients and products from third countries beginning this year. Thanks to the size and technological equipment of the Group, today we manufacture everything we need in the EU. This gives us 100% control over quality and lets us significantly reduce CO2 emissions arising from transportation. Simply by limiting imports from third countries we were able save 240 tons of CO2 per year, which equates to approximately 2,000,000 kilometres in a car. Last but not least, this decision helps support local producers.
Recyclable packaging
In the pet food industry, product packaging represents one of the greatest burdens to the environment. We constantly work to improve our packaging to make it environmentally friendlier while maintaining all of the required properties. Our ambition is to reduce the overall amount of material used and increase the proportion of recyclable materials. VAFO Group first began using recyclable packaging for Hau; moreover, we have succeeded in offsetting the brand's carbon footprint by 120%, making it the first carbon-neutral pet food produced under the VAFO Group banner. This year, we will also begin using recyclable packaging for our Brit Care products.
Greater sustainability in ingredients and production
Ingredients are the basis of our products. Their production and quality must meet our exacting standards. We see big potential in the use of alternative sources of protein. The VAFO Group brands Brit and Christopherus have already introduced snacks made with insect protein. The production of insect protein places far smaller demands on the environment than other common types of protein such as beef, pork, and poultry.
The fourth pillar of our sustainability strategy is the use of sustainable energy sources. By 2025, we will be using sustainable and conventional energy sources in a ratio of at least 4:1. We already use biogas and natural gas in our factories. We have already installed the first solar panels at our factory in Poland and will be gradually adding them to our other sites. We are applying all of our sustainable production knowhow to the design a new factory currently under construction in Finland.
A responsible company with responsible employees
Our commitment would not be complete if it was not backed by the people who make up VAFO Group – our employees. Within our internal administrative processes, we have created conditions that allow each of us to reduce our impact on the environment. We are working to gradually digitize all of our procedural documents and use printed materials only in the most necessary situations. We are also setting an example for the world. At the last ZOOMARK International trade fair, we were the only producer to not have any promotional materials, with all information instead available through a QR code. The approach was met with remarkably positive responses. We pride ourselves on being responsible and recycling materials in our offices. The most important aspect, however, is our commitment to continued learning and the sharing of information among our colleagues.
All five of these pillars have been approved by the management of our European subsidiaries, and we will regularly assess them and introduce additional innovative ideas on how to reduce the impact of the pet industry on the planet.